I-FOCUS-CS Contacts
---

Principal Investigator
Turgay Korkmaz, PhD
Office: NPB 3.330
Phone: (210) 458-7346

Email: korkmaz@cs.utsa.edu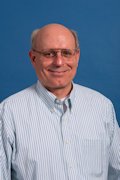 Co-Principal Investigator
Larry Clark, MS
Office: NPB 3.332
Phone: (210) 458-4163
Email: larry.clark@utsa.edu
---
Principal Investigator (PI)
Dr. Turgay Korkmaz (Professor of Computer Science) received his B.Sc. degree with the first ranking from Computer Science and Engineering at Hacettepe University (Ankara, Turkey) in 1994, and M.Sc. degrees from Computer and Information Science at Syracuse University in 1997. In Dec 2001, Dr. Korkmaz received his PhD degree from Electrical and Computer Engineering at University of Arizona. In January 2002, he joined the University of Texas at San Antonio. Dr. Korkmaz research is in the area of computer networks and sponsored by NSF and DoD. Through these grants, Dr. Korkmaz has graduated several PhD and MS students. Specifically the DoD grant was an minority grant, which allowed Dr. Korkmaz to gain significant experience in working with several underrepresented US citizen students.
Since 2002 at UTSA, Dr. Korkmaz has been teaching many classes at levels from 1000 to 7000, with a special focus on gateway CS courses. Dr. Korkmaz served in curriculum committee and has accepted to be the UGAR (Undergraduate Advisor of Record) Since Fall 2017. This will allow Dr. Korkmaz to pay close attention to the undergraduate students and help them to proceed successfully. Dr. Korkmaz's commitment to a career in teaching and caring for students inside and outside of the classroom translates into a superior learning experience for students. Accordingly, he has been recognized with the Howe Award for Outstanding Service to Undergraduate Students at UTSA, and he has received Dean's Excellence award for Teaching twice. He was nominated for the President's Distinguished Achievement Award for Teaching Excellence (tenured).
Believing that the seeds of a successful career are planted in the early educational institutions, Dr. Korkmaz volunteers his own time in K-12 education as well with an unmatched dedication and passion. Specifically, Dr. Korkmaz has been serving as the board member and board president of Riverwalk Education Foundation (REF), a non-profit organization operating six charter schools, namely School of Science and Technology (SST), in Texas. As the board president, Dr. Korkmaz attends regular REF board meetings at least once a month. In addition to overseeing the high-level operation of the schools, Dr. Korkmaz participates in several other educational activities in these schools. For example, Dr. Korkmaz works with some SST students on science projects through their teachers and serves as judge in several school-wide science fairs. Dr. Korkmaz also attends career days in these schools and tries to motivate students about math and science related careers. Because of this active community service, Dr. Korkmaz has received the President's Distinguished Achievement Award for Recognition of Excellence in Community Service (tenured) in 2010.
---
Co-Principal Investigator (Co-PI)
Larry Clark (Full-time Instructor of Computer Science) received his B.Sc. degree in Mathematics and Computer Science with Magna Cum Laude honors from the University of Texas at San Antonio in 1978, M.Sc. degree in Computer Science from the University of Texas at San Antonio in 1980, and did post graduate work in Computer Science at the University of Texas at Austin from 1980 to 1985. Mr. Clark has thirty years of experience in corporations including National Data Corp. and USAA, which serves millions of military members and their families on insurance, banking and investment services. At USAA, Mr. Clark began as a Database Administrator and was promoted to Manager, Director, and Executive Director Technical Fellow. He was the chief architect for USAA's Auto Insurance system which was the largest project in the history of USAA, employing 700 people. Mr. Clark has seventeen years of experience teaching Computer Science at both UTSA and UT Austin. Outside of work, Mr. Clark coached youth basketball for fourteen years, focusing on teamwork. He earned numerous awards as outstanding volunteer. While at USAA, Mr. Clark was the executive sponsor for recruiting Computer Science new college hires from UTSA. In that role, he recognized the need for Computer Science students to have additional career development learning sessions. When Mr. Clark joined UTSA full-time in January 2015, he began programs to train teaching assistants (TAs) and tutors while also providing career development sessions such as mock interviews, resume writing.
---
External Evaluator
Dr. Kurt Steuck (Senior Researcher at Steuck & Associates) received his Ph.D. from the University of Wisconsin-Madison in Educational Psychology. Dr. Steuck taught and conducted research at Trinity University in San Antonio, TX as a Visiting Assistant Professor. Dr. Steuck then worked as a Federal employee for nearly 15 years in the Air Force Research Laboratory (AFRL) applying principles of educational psychology and artificial intelligence to the design, development, evaluation, and technology transfer of intelligent tutoring systems. Dr. Steuck has worked in the private sector for the past 16 years designing learning technologies and evaluating education projects. Dr. Steuck conducts evaluations in secondary and post-secondary settings based on the goals of the project and project constraints. He is experienced in qualitative evaluations (e.g., surveys, interviews, focus groups) and in quantitative evaluations involving large data sets using statistical analysis software. His recent post-secondary work includes evaluations of grants from the National Science Foundation, National Institutes of Health, Department of Defense, Department of Homeland Security, NASA, and Department of Education. He is an active member of the American Evaluation Association (AEA) and the American Education Research Association (AERA). He has organized the Alamo City Evaluators, an informal group of evaluators in the San Antonio region.
---
Executive Advisory Committee
Executive Advisory Committee (EAC) members are drawn from faculty and administrators of UTSA as shown in the following Table.
| | | | |
| --- | --- | --- | --- |
| Name | EAC | SRS | Position |
| George Perry, PhD | ✓ | | Dean, UTSA College of Sciences and Director of CRTS |
| Sean K. Kelly, PhD | ✓ | | Dean, UTSA Honors College; Prof. of Philosophy |
| Rajendra Boppana, PhD | ✓ | | Chair of Computer Science (CS) |
| Heather Shipley, PhD | ✓ | | Chair of Civil and Env. Eng. and PI of SPURS S-STEM |
| Thomas Coyle, PhD | ✓ | | Dir. of The Office of Undergrad Research; Prof. of Philosophy |
| Gail P. Taylor, PhD | ✓ | ✓ | Co-PI of FAST S-STEM and REACT S-STEM |
| Leticia Duncan, PhD | ✓ | ✓ | Executive Director, Tom´as Rivera Center |
| Diana Martinez | ✓ | ✓ | Director of Financial Aid |
| Turgay Korkmaz, PhD | ✓ | ✓ | PI of I-FOCUS-CS Program and CS Assoc. Professor |
| Larry Clark, MS | ✓ | ✓ | Co-PI of I-FOCUS-CS Program and CS Instructor |
The EAC will elect a Committee Chair every two years (the PI cannot serve as Chair) and meet annually to ensure appropriate progress at the early stages of the I-FOCUS-CS implementation, or more often at the request of two EAC members. The functions of the EAC include: 1) advise the PI on matters of program content, management, execution and evaluation; 2) monitor program compliance with NSF and institutional policies; 3) evaluate program impact at UTSA; and 4) make recommendations about institutionalization of program components to UTSA administrators. Letters of commitment from key EAC members are included in SD section. A subpopulation of the EAC will comprise the Selection and Retention Subcommittee (SRS) which will meet initially to advise on content of the program's application and admissions standards and then annually to review applications; it may also convene (in person or via email) to assess students who are failing to maintain program retention standards.