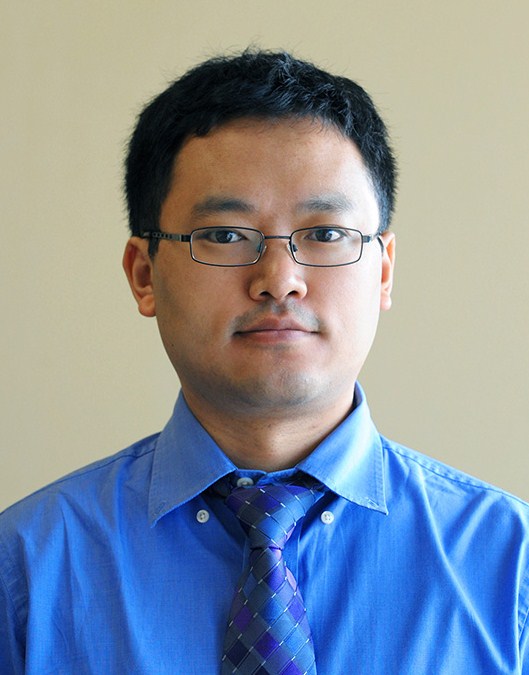 Palden Lama
Associate Professor
Department of Computer Science
University of Texas at San Antonio

NPB 3.306
One UTSA Circle
San Antonio, TX 78249
Phone: (210) 458-6088
E-mail: palden.lama[at]utsa.edu


---
Palden Lama is an Associate Professor in the Department of Computer Science at the University of Texas at San Antonio. He received the BTech degree in electronics and communication engineering from the Indian Institute of Technology, Roorkee, in 2003. He has four years of professional experience in the software industry. He received his PhD degree in Computer Science from the University of Colorado, Colorado Springs in 2013. He has also worked as a research aide at the Argonne National Laboratory during his Ph.D study. Dr. Lama's research interests include the areas of Cloud computing, Edge Computing, Big Data and Cyber Seurity.

News
February 2022, Won the xTechHBCU competition sponsored by the US Army !
February 2022, Paper got accepted in IEEE CCGrid'22. Congrats to Xue and Peng !
June 2021, Paper got accepted in IEEE IC2E'21. Congrats to Peng !
---
Research Interests &nbsp&nbsp&nbsp Publications &nbsp&nbsp&nbsp CLOUDSys Lab &nbsp&nbsp&nbsp Teaching &nbsp&nbsp&nbsp Professional Services &nbsp&nbsp&nbsp Awards &nbsp&nbsp&nbsp

---
Research Interests

Cloud Computing and Data Centers
Edge Computing
Big Data
Cyber Security

The ever-evolving and growing Internet services have set forth many challenges to computer scientists who are constantly looking for effective ways of making it more scalable, secure, reliable and faster. At the same time, there is a need to make these systems self-adaptive and autonomic to reduce human efforts. This is a field of active research which demands state-of-the-art techniques that transcend the boundary of various disciplines of computer science as well as Computer engineering. Dr. Lama's research interests lie broadly at the synergistic intersection of Cloud Computing, Edge Computing, Big Data and Cyber Security. He focuses on developing systems and middleware approaches to improve the performance, efficiency and security of cloud, edge and big data systems.

[TOP]


---

Teaching

Teaching at the University of Texas at San Antonio, Department of Computer Science

CS 4843/5573 Cloud Computing

CS 4593/5463, Cloud and Big Data
CS 5523, Operating Systems
CS 3423, Systems Programming
CS 4593, AT: Pathogenic OutBreak Investigation
Previous Teaching at the University of Colorado at Colorado Springs, Department of Computer Science

CS 4500/5500, Operating Systems


[TOP]


---

Professional Services

Reviewer:
ACM Computer Surveys
ACM Transactions on Autonomous and Adaptive Systems (TAAS)
IEEE Transactions on Parallel and Distributed Systems (TPDS)
IEEE Transactions on Cloud Computing
IEEE Transactions on Network and Service Management
Concurrency and Computation: Practice and Experience
Elsevier Genomics Data
IEEE International Conference on Computer Communications (INFOCOM) 2014
IEEE/ACM International Symposium on Cluster, Cloud and Grid Computing (CCGrid), 2014
IEEE/IFIP Intl Conference on Dependable Systems and Networks (DSN) 2013
IEEE International Conference on Computer Communications (INFOCOM) 2012
IEEE/ACM International Symposium on Cluster, Cloud and Grid Computing (CCGrid), 2013

Program Committee Member:
IEEE International Parallel and Distributed Processing Symposium (IPDPS) 2017
IEEE/ACM International Symposium on Cluster, Cloud and Grid Computing (CCGrid), 2014, 2015, 2016, 2017
IEEE International Conference on Cloud Computing (CLOUD) 2017
IEEE International Conference on High Performance Computing and Communication (HPCC) 2017
IEEE International Conference on Computer Communications and Networks (ICCCN) 2017
IEEE SmartCity 2017
IEEE International Conference on High Performance Computing, Data and Analytics (HiPC) 2016
IEEE International Workshop on BigData and Cloud Performance (DCPerf) 2016


[TOP]

Awards

Winner of xTechHBCU 2022 competition sponsored by the US Army.
Best Paper Nomination. IEEE MASCOTS 2017.
Best Paper Award. IEEE CLOUD 2017.
NSF Travel Grant Support for IEEE/ACM CCGrid 2015 Conference
Student Travel Grant, ACM International Conference on Autonomic Computing, ICAC 2012
Student Travel Grant, IEEE International Conference on Dependable Systems and Networks, DSN 2012
Outstanding PhD Student of the Year, Department of Computer Science, UCCS, 2010
UCCS Graduate Fellowship Award, 2008-2010


[TOP]


---